Residential Air Conditioning
Residential Heating
Trane Nexia Thermostat
Air purification
Commercial Air Conditioning
Commercial Heating
Commercial Refrigeration
Restaurant Equipment
Ice Machines
Financing
Residential Air Conditioning
Residential Air Conditioning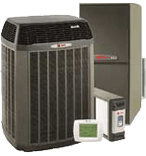 When it comes to keeping your home cool through a hot Florida summer, the proper working function of your AC system is critical. At JefCo Air Conditioning & Refrigeration, we can make sure you stay comfortable all year-round with top-quality air conditioning services in the Santa Rosa Beach, Walton County and surrounding areas.
Our NATE Certified technicians provide outstanding air conditioning services, including several ongoing maintenance plans. We even offer air duct design, installation and replacement to ensure that your AC system is functioning as it should. Whether you need residential air conditioning installation, or AC repair, our team of experienced HVAC professionals are ready to help.
For more detailed information about JefCo's Installation, Service, Repair and Maintenance options click the blue button above or use the navigation menu at the top. 
Why Choose JefCo Air Conditioning & Refrigeration?
JefCo AC is built on promises made and promises kept to each and every customer. Our customer satisfaction ratings are high across all rating platforms. We are proud to be a a Trane Comfort Specialist™ Dealer, meaning we maintain a 98% or higher customer satisfaction rating and demonstrate a commitment to ongoing education and quality. We strive to make every customer feel like a member of our extended family, answering your questions, addressing your concerns, and providing expert advice, check our testimonials and see for yourself. When you need residential air conditioning services in Walton County you can count on JefCo Air Conditioning & Refrigeration.
Call today at (850) 654-4822 or use our online form to contact us and schedule AC service, repair or installation in Southern Walton County, Southern Okaloosa County and  surrounding areas.
Santa Rosa Beach, FL
Destin, FL
Miramar Beach, FL
Niceville, FL
Fort Walton Beach, FL
Freeport, FL
Inlet Beach, FL
Residential Heating
Trane Nexia Thermostat
Air purification
Commercial Air Conditioning
Commercial Heating
Commercial Refrigeration
Restaurant Equipment
Ice Machines
Financing