Commercial Refrigeration
Commercial Refrigeration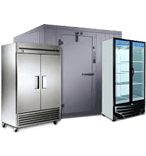 Commercial Refrigeration
Whether your frozen goods are in jeopardy or your refrigeration system isn't getting the job done, JefCo Air Conditioning & Refrigeration is here to help. Our prices are competitive and we're never finished with an installation, repair, or other service until you are 100 percent satisfied. Give us a call (850) 654-4822 to see what we can do for you.
At JefCo Air Conditioning & Refrigeration, we understand how important your refrigeration systems are to your business. We know that in the service industry it is vital to keep your refrigeration systems and freezers running optimally and to their full capacity. If your refrigeration systems need repairs, or have shut down completely, then you must act fast or your business could lose money in lost produce or lost perishable foods.
In order to keep your business running smoothly day or night, we offer 24 hour / 7 days a week emergency repair services in addition to our regular services. Our professional technicians will promptly arrive at your business to diagnose and fix any problem that may be occurring. Keeping your refrigeration system properly maintained will save you money on repairs in the future. This is why it is important to us that we offer routine maintenance services for your business to optimize your systems and give you peace of mind.
At JefCo Air Conditioning & Refrigeration we understand that your business has to run uninterrupted. JefCo Air Conditioning & Refrigeration is your one-stop repair and maintenance source for Walk In Coolers & Freezers, Deli Cases, Liquor & Beverage Display Coolers, Produce Cases, the Ice Machines and more.
Upfront Pricing
At Dependable HVAC & Refrigeration, we respect your budget. Before we begin work, you'll receive a straightforward estimate that includes all charges—so you can make an educated decision about HVAC/R service. No hidden fees, and no fine print.
All Services Include:
A trained, experienced technician
Background Checked
Satisfaction Guaranteed
Schedule your Refrigeration Service today!
When refrigeration failures occur, your business's bottom line comfort depends on fast, reliable service at affordable prices.
Call us today at (850) 654-4822 or use our online form to contact us and schedule AC service, repair or installation in Southern Walton County and Southern Okaloosa County and the following cities:
Santa Rosa Beach, FL
Destin, FL
Miramar Beach, FL
Niceville, FL
Fort Walton Beach, FL
Freeport, FL
Inlet Beach, FL
Installation
Service & Repairs
Maintenance Plans